Many have said since this "housing crisis" erupted that commercial real estate would not be impacted - it would be "different this time."
I have argued consistently that in every other residential-led building problem we've seen commercial R/E follow by 12-18 months.
Guess what
?
"The Seattle project joins other projects in New York, Phoenix, Atlanta and Las Vegas that have been shelved, scaled back or beset by financial problems in recent months. Many city officials hoped they would provide jobs and economic activity that could help make up for a housing-market downturn that still hasn't reached bottom."
But I thought the market crooners said that Commercial R/E wouldn't take a hit? All would power on and be fine?
The "Mortgage Mess" has yet another change in policy announced -
FHLB Chicago is no longer buying mortgage loans
. One has to wonder, however, how much risk is out there on their balance sheet thus far. Specifically, I am more than a bit concerned whether the FHLB network is overexposed to bad mortgages and overpriced houses. It will likely be a few more years before we know exactly how bad this will get for the FHLB network, which is a network of "bankers banks" that were originally designed to serve smaller institutions but have, from many people's points of view, been abused horribly by the likes of Countrywide Financial (NYSE: CFC) as a "conduit" for mortgage money in the last year or so.
And then, this morning,
we got this
:
"NEW YORK, April 25 (Reuters) - The regulator of the Federal Home Loan Bank of Chicago has denied requests by shareholders that have terminated their memberships in the institution to redeem their stock, the FHLB said in a regulatory filing on Friday.

The Federal Housing Finance Board, which ensures the safety and soundness of the entire Federal Home Loan Bank system, in October reserved the right to approve stock redemptions based on capital adequacy, which has been under pressure."
Capital adequacy? Oh oh....
If you've wondered if the banks were intentionally gaming the system - cheating, to be blunt - you shouldn't wonder any more.
The UBS fiasco should be all the proof you need
- their release of a blunt report stating that they simply ignored risk management because they were quite sure "The Fed had our back" is about the most damning piece of evidence thus far.
In any reasonable world this would have led to immediate criminal charges against the "bad actors." But we're not in a reasonable world, are we? So long as the people who steal are bankers and other "rich, monied people", and the people who get stolen from are either taxpayers or "less fortunate", its all ok. And before you turn this into a "Bash Bush" game, go study some history - the fact of the matter is that the seeds of this mess were sown during President Clinton's time in office, and have bridged both Democratic and Republican Congressional majorities as well.
In short the politicians are more than happy to see you ripped off and have your money given to anyone who makes large campaign contributions to them. You, as a voter, appear to be happy with this state of affairs, as you keep re-electing them and sending them back to Washington, when you, not the lobbyists and corporations, are the ones who can vote.
Part of this is unfortunately that people have become conditioned to "Vote For A Living" via entitlements, but what those who are doing so don't realize is that this isn't a zero-sum game - its a negative amortization game for the voter, in that these promises can't possibly be kept and what's worse, the promise and its "attempted" fulfillment winds up picking your pocket in the process.
We are finally getting attention paid to the fact that
many states are in recession
- right now. Reality is that despite whether the NBER says "there's a recession" or not, the states have a much more sensitive gauge that is simply never wrong within its boundaries - tax revenues. Sales tax, in particular, is an almost-instantaneous response mechanism and provides immediate feedback on consumer spending and economic trends, and states are getting hammered from both sides - falling revenues and rising costs:
"The weakening economy is hitting tax revenue in a number of ways: People's discretionary income is being gobbled up by higher food and fuel costs, while the tanking housing market means people are spending less on furniture and appliances associated with buying a house."
You mean people don't spend money they don't have when their credit runs out? Fancy that.
Oh, but the states do respond to this sort of pressure. Guess how? Yep -
they raise property taxes
:
"Spring Valley, N.Y., approved a 9.7% increase in the property-tax rate to balance its budget. A number of fast-growing suburbs around Washington, D.C., have raised rates, while Memphis Mayor Willie Herenton has proposed a 17% increase in the property-tax rate to close a budget gap."
"Jeff Rubin, chief economist at CIBC World Markets says oil production will barely grow over the next five years, edging up barely more than 1-million barrels a day over the next three years, and only half a million barrels a day between 2010 and 2012.

The increases will fall far short of demand, forcing the price of crude oil to surge to US$150 a barrel by 2010, and over US$200 a barrel by 2012. The updated forecast is aggressively higher than Mr. Rubin's previous forecast of US$150 a barrel by 2010 and follows the recent record-breaking run in light crude prices, which fell just US10-cents short of US$120 a barrel on Tuesday."
Let me guess - that's bullish for stocks and the economy, right?
At the same time let's talk about mortgages generally.
Over on ML-Implode's forums there has been some criticism levelled at me regarding my November 2006 posting called "
Is America's Purchasing Power REALLY In The Toilet
?"
In that article I noted that most of America's net worth increase was fueled be a rise in home values, and that median income, as of 2006, was 13% higher than the economic boom of 1985. I also noted that "real purchasing power" is 8% higher than in 1965.
All true.
Now here's the rub - what wasn't accounted for in there was the rise in toxic forms of debt.
Why?
Because quite frankly, it never struck me that the sort of outright fraud that had been going on in the housing boom was occurring. Call it a failure of research or diligence if you want, but I simply did not account for the reality that we had grown an entire industry - the mortgage "originate to distribute" model, along with all the complex derivatives - that were designed for one purpose and one purpose only - to steal the wealth of Americans and circumvent regulations that were supposed to prevent it from happening.
I have also been challenged on my assertion that a safe mortgage loan has no longer term than 30 years to final maturity, is of fixed interest rate, has a 28% front end ratio (PITI) and a 36% back end ratio. I have also made the statement that this has been the "gold standard" for 100 years of lending.
The latter claim has raised a hue and cry from people in the "mortgage business", but it is nonetheless true.
Back in the 1920s we had the same sort of crap paper written that was at the root of this "property boom" and crisis. Very short-term mortgages with interest-only terms and a balloon note, crazy mortgages really - were all the vogue back then. They were part and parcel of what fueled the property boom in Florida in the 20s, which blew up in spectacular fashion a couple of years before the '29 crash.
Doesn't this sound awfully damn familiar to the 2/28s, 3/27s, and Option ARMs that are prominently featured in this mess?
From the 1930s we got a federal agency, HOLC, that essentially forced the 15 year (or longer) fixed-term mortgage into the marketplace.
From that forced prudence we got 70 years of stable home ownership through both boom and bust, low and high inflation, war and peace, good times and bad.
The point here is that we've done this before.
We saw, in fact,
nearly the exact same pattern of practice, fraud and theft that were featured in the housing bubble during the years just before The Depression, and those "standards" in fact were a primary causative factor OF The Depression!
How little we learn - and yet today, over on ML-Implode's forums, we have "industry people" still trying to
defend
the very practices that were proven, 75 years ago, to be unsound, toxic, and a major causative factor in the worst economic crash this nation has ever experienced.
Charles Ponzi ran a scheme in 1920 that earned him a permanent place in the American Lexicon as "the pre-eminent scammer of the time" for his scheme with "IRC"s - basically, postal reply coupons. It was yet another example of "make money fast" and one of the most famous of the 1920s.
Today, attempting to run such a scheme will land you a nice stay in jail - unless you're a Mortgage Broker, Lender, Banker or Realtor, in which case we wring our hands and wonder why we have had "bad outcomes" in our economy from the precise sort of scam and fraud that was
proven
to be unsound and the cause of mass bankruptcies during The Depression!
We even had
a group of property appraisers initiate a petition in 2001
on the subject of inflated appraisals and try to get this practice stopped, but it was ignored by the government and law enforcement.
The facts are what they are folks. We have tried all these "subprime" and "innovative" mortgage products before - in the 1920s. We have factual knowledge on whether or not they work and produce sustainable home ownership, because in the 1920s the same schemes were run and they produced fat profits for the bankers involved in the transaction and ruin for the homeowner.
We in fact have one hundred years of history in the United States that these exotic mortgage products are toxic and lead to ruin, going back to before The Depression, and in fact they were a prominent feature as part of the
cause
of The Depression.
Yet today, we have Congress, The FBI, banking regulators and mortgage "professionals" arguing that there is no culpability of any sort in these practices - that they were not the cause of the housing mess, and that it was all due to "excess liquidity" that had to go "somewhere", and that they were just "responding to the market."
This is a knowing, willful lie.
Our experience with the 1920s and what followed proves it.
These "professionals", up and down the line, simply waited until all the people who experienced first-hand the consequences of this pernicious and outrageous fraud to be dead, then they repeated their equity-stripping scheme and again robbed America.
Each and every one of these organizations should have had their corporate charters revoked and been criminally charged. Those who conspired with others, such as when appraisal fraud was involved, should be prosecuted under RICO.
All of them, just like you will be if you run a "Make Money Fast" scheme over The Internet.
These schemes - all of them - are mathematically impossible to "work" over any material amount of time. Certainly over the amortization schedule of these loans, they cannot work.
They rely on the same sort of Ponzi Finance that Charles' original IRC scam did, and they are equally easy to prove as being mathematically unsound.
In fact, here's a table that proves it: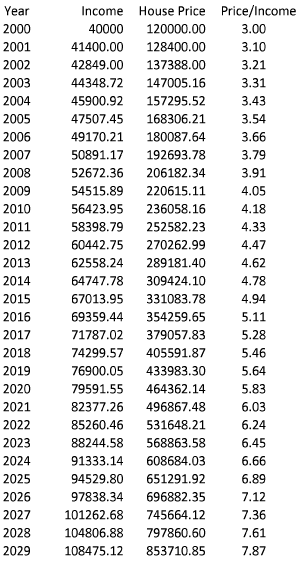 Notice what happens here. The assumption - and claim - of the "market callers" is that house prices go up by 7% a year and incomes rise at 3.5% -
both written projections from NAR - the Realtor's Association - in 2005
.
If we make those assumptions you see that our "3x income" house - affordable - rises to
nearly eight times incomes
by the 30th year. (* There was an error in my earlier copy caused by a fat-finger mistake in Excel; this has been corrected)
Clearly, this can't happen, but this is what the National Association of Realtors told people!
This is what Americans were sold and yet it is mathematically impossible.
There are no new laws necessary to deal with schemes that are mathematically impossible to work over significant periods of time. We have existing laws that are more than sufficient.
But we have nobody in the FBI, the SEC or the State Governments willing to enforce those laws, nor do we have citizens agitating loudly for their enforcement.
Instead of being the recipient of indictments these folks drive their Lexus or BMW, or, in extreme cases such as Angelo Mozillo, sit with a smug smile with his bronzed face on CNBC while ordering up another fill of Jet-A for his Gulfstream IV.
Angry yet?
You should be.
Every one of these "professionals" either actually knew or should have known that these "products" were in fact near-exact-copies of what was run in the 1920s, and we know exactly how that turned out. 20% unemployment, GDP cut in half, and our nation in an economic malaise for nearly a decade, ending only with WWII.
They knew
these products had a toxic history and were a prominent feature in the cause of The Depression along with resulting in huge numbers of foreclosures during the 1930s.
They knew
that these "loans" were predicated on home prices rising indefinitely at a rate that exceeds the rate of increase in incomes, and it is trivially simple to prove with nothing more than a calculator that eventually, such a scheme must reach exhaustion and failure. Excel just makes it easier.
In fact
the scheme lasted for only five years, and as it became obvious that it was coming apart the level of desperation rose so high that standards were loosened even further in one final attempt to keep the game of musical chairs going.
But they did it anyway, because they believed that they'd get away with ripping you off and prosecutions under the law that evolved after The Depression to stop people like Charles Ponzi from preying upon the public would not be applied to them.
They were quite sure that they'd not only not be jailed, they'd get to keep the money.
So far, they have been absolutely right - because "we the people" have sat back and let it happen.
What's worse, we have the government trying to respond the same way it did after 1929's blowup - with more liquidity, more massaging, more contamination.
God Help Us if the market responds in the same way, and we have a repeat of the 1930s.
Will you pick up the phone and call Congress?
Today, unlike in the 1920s, its very cheap to do so.
There are a few people who are in fact doing something. Today a handful of people from TickerForum showed up in front of Bear Stearns in NY to protest, along with a few other select locations around NY City.
Yes, the old-fashioned way, with signs and boots on the street.
I won't snow you and try to claim there was some huge mass-protest.
There wasn't. There instead were a few patriots. Serious people responding to a serious problem. I, along with some others who couldn't get there (I've got a school-age kid who is still in school, and I'm a single parent) instead donated money so others who had time but no funds, were able to participate.
But that there have not been mass protests is really quite amazing, when you think about it.
Go back and read the rest of this message again.
Understand that the pernicious, outrageous and systemic fraud that was run in the housing sector was an almost exact carbon-copy of what was done in the 1920s - it was not an accident, nor were the effects not able to be forseen.
Quite to the contrary - this was an organized swindle on a grand scale, and everyone from your local Realtor to the property appraisers to the mortgage originators to the banks, both commercial and investment, were involved in it.
Top to bottom, it was designed to pump up your consumption as consumers and thus drive outsize profits not only in housing but everywhere else, while leaving you, the consumer, saddled with debt you can't hope to repay.
The blueprint was taken straight out of the 1920s handbook and run almost literally to the page, with malice aforethought and intent, smug in the knowledge that essentially all those who experienced the consequences last time and were old enough to remember them are dead.
Yet only a handful of people can be bothered to protest.
Only a few sign petitions.
None of the national Presidential Candidates are talking about this, even though the scale of this robbery from "Joe Average" makes any other scandal in the last 75 years look like a Girl Scout picnic.
The candidates don't raise a stink about this because
you
aren't raising a stink!
In general the people whine about the economy (good) but fail to understand that this was no accident nor was it an "unfortunate occurrence" (bad) - it was in fact intentionally engineered with malice aforethought, with full knowledge of how it would end, as a near-exact copy of these schemes were run 75 years prior - right here in The United States.
"Our economy is fundamentally strong"
say President Bush and Henry Paulson.
Uh huh.
"I see nothing in the present situation that is either menacing or warrants pessimism... I have every confidence that there will be a revival of activity in the spring, and that during this coming year the country will make steady progress."
- Andrew W. Mellon, U.S. Secretary of the Treasury December 31, 1929
"I am convinced that through these measures we have reestablished confidence."
- Herbert Hoover, December 1929
Those who refuse to learn from the past are doomed to repeat it.
The choice is now ours as Americans.
You can take one simple step today. Print and fax this Ticker to your Congressperson and Senators. Go over to
http://www.house.gov/
and
http://www.senate.gov/
and look up their fax numbers, print a copy of this, write your own quick note on the cover page and stuff it in your fax machine, or fax it from your computer.
As for the market in general, if you're buying that all is well and we'll be ok, I wonder if you've read the rest of this posting. At the end of the day it is really simple - America has "created" about $6.5 trillion worth of money by withdrawing home equity over the last 4 years. That's right near $1.5 trillion annually that has been spent that we didn't earn, and is about a 10% contribution to GDP.
But now we have reached the point where we need $5 in debt to create $1 worth of GDP. As debt levels rise this ratio goes parabolic and ultimately becomes impossible to sustain. That we have reached a 5:1 ratio means that the game is basically up, and the rapidly rising rate of defaults across all areas of consumer debt mean that this "engine" to fuel "growth" simply can't find any more fuel, despite the desires of the bankers and merchants to "make it so."
So while you may indeed enjoy this nice rally we've had in the last couple of months off the bottom in January, to believe that the pain is truly all over and we are headed for "a new era of prosperity" you must take into account reality.
You must square your beliefs with the facts, unless your entire premise and belief system is predicated on fraud and delusion - and sadly, for many in America, it is.
There is an old saying on Wall Street - if you look around for a sucker and can't figure out who it is, then in fact the sucker is you.
Shall I find you a mirror?